View the Office
Counseling, Coaching & Therapy In Comfort & Style
Welcome to our office. Our goal is to create a peaceful, luxurious environment that will put you at ease. Upon entry, you'll be greeted by the sound of ocean waves and the smell of lemongrass.
View More
With windows on both sides of the therapy office, there is adequate ventilation for comfort and peace of mind. Enjoy a soothing cup of coffee, tea or a cold beverage as you sit back and relax on a leather couch. You can choose from cool jazz, ambient music or silence for the backdrop of your therapy, counseling or coaching session. The spacious office size allows for generous room (8 feet) between chairs to maintain a comfortable distance. A café area with a bar top table and stools sits gracefully behind the couch and chair for a touch of comfort and ambience and an added option for seating.
Waiting Area
Great care and consideration was taken in designing our waiting area to be relaxing, comfortable, and an oasis for busy professionals. Listen to soothing crescendo of the ocean waves lapping on the shore.
Cafe Area
Not ready for the couch yet? Enjoy a cup of coffee or tea or a cold beverage in our café area for a more casual setting.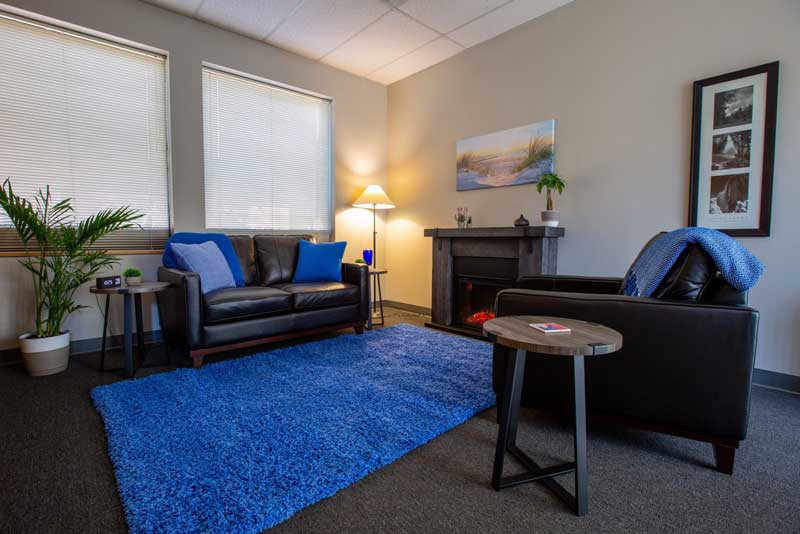 Relax by the Fire
Comfortable living room-like atmosphere designed with the finest attention to detail to foster a soothing environment.
Spacious Seating For Added Comfort
Spacious atmosphere for comfort with windows on each side for added ventilation.
Beautiful Location
Arcadian Counseling is located in the beautiful Woodbridge Office Park.
Pristinely Landscaped Courtyards
Arcadian Counseling is located at Suite 106 in the Woodbridge Office Park in the Amity section of Woodbridge on the border of New Haven.